Sutherland Feels Nostalgic Over '24'
Sunday, November 28 2010, 9:27am EST
By
Tom Eames
, Big Brother Reporter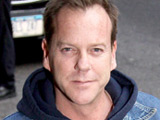 Kiefer Sutherland has revealed how watching back previous seasons of
24
has been an "eye-opener" for him, and how it has made him feel nostalgic about the last ten years.

The actor - who played counter-terrorist agent Jack Bauer - is currently filming a documentary about the series. He explained that he was shocked by how much he had changed over the course of the show.

Speaking to
Empire
about his time on the series, he said: "Our ageing is documented through the show - it's a bit of an eye-opener. Though if you actually do the math, Jack Bauer is now about 85 years old!"

He added:
"We're putting a documentary together, so I sat down with Rodney Charters, the cinematographer, to look at behind-the-scenes footage from the last eight years.
We were laughing, then it got to stuff from the later seasons and it wasn't funny anymore."
Source:
DigitalSpy